Year 4
Teacher - Mrs Patel - d.patel@walkern.herts.sch.uk
Teaching Assistant - Mrs Eastwood
We know how much year 4 love reading so were delighted when the BBC reported that Oak National Academy have created a virtual library. You can read the BBC article here or go straight to the library here. Happy reading!
Summer Term in Year 4
Welcome back to the summer term. We are all looking forward to a full term of learning back in our lovely school environment where we can enjoy the wonderful outdoors, together with the lovely weather we will also have to go with it.
In Literacy this term, year 4 will learn to write stories based on a theme. We will be reading Escape from Pompeii, which is a historical story, and this coincides with our topic work, which is about Ancient Rome and the Vikings. We will then be writing our own.
Children have created and brought in a fantastic display of homework for this topic. Do take a look at the photographs of some of the excellent examples and come back again to view more as they come in.
In Maths, we will continue to reinforce the 4 operations and concentrate on using mental and newly learned written calculation skills to help problems. Children will practice these daily so they become confident mathematicians.
The Science topic this term is titled 'Living things and their habitats.' We will be learning about the different habitats animals have and we will be learning about food chains. Some of the learning and discoveries will take place outside, which will be great with the weather we hope to have.
In Art, we will be creating Mosaics from coloured pictures and photographs so if you have anything we can use from old magazines, leaflets and newspapers, please send them in. We will be making designing and making Roman shields in DT lessons.
Spring Term in Year 4
Hello Year 4. It is a shame we cannot be together at school due to the current circumstances but we will we can still make the most of the time we have to have some fun and learn whist we are not all at school.
I am going to be sending a range of videos, powerpoints and work on Google Classrooms but if I have not managed to do this then I will send work in the format I sent it on 4/1/21. Do please keep checking though. Many thanks for your patience, whilst I get to grips with this.
As before, the worksheets do not be printed at all. The work can be completed on paper but if you wish to collect your child's books to complete work, then these can be picked up from the school office. If you wish to send pictures, powerpoints or any work via Google classrooms then this is also an option. Feel free to choose what works best for you.
The work that is being set per day does not need to be completed on that day. Children work at different paces and may find it easier to work on some days better than others in these difficult circumstances.
As always, please e-mail me if you have any questions.
In the meantime, please read everyday. I will include a book with comprehension activities but don't forget to enjoy other books you have at home. Try to keep up with the times tables learning and practice. You should be proud of all the hard work you have put in to fill in the tables grid, last term at school. Make sure you take time to exercise and do things you enjoy too. Most of all, make the most of having time with your family and doing fun things together.
Home Learning
05/01/21 Log on to Google Classroom
Google Classroom has been set up for your child's class. This is where we can communicate with the class, children can ask any questions and where work can be set.
Your child's Google login is 17(first name in full last initial)@walkern.herts.sch.uk
For instance, my username would be 17Dru@walkern.herts.sch.uk
The password is Walkern20 but I believe this can be changed once you are logged in.
The code to access our class page is: oxtnzam
-----------------------------
Autumn Term in Year 4
Welcome back to school year 4 and welcome to your new Year 4 class. It has been lovely to see you all back and great to see how enthusiastic everyone has been about their learning and about all the topics we will be covering in our different lessons this term.
As you a can see from the curriculum map, our whole school topic is titled 'Understanding our World.' Year 4 will be learning about Ancient Egypt and we will discover how the Egyptians lived and find out more about the world of the Egyptians. The other subjects are detailed on the map. Please ask if you have any questions.
The class will have extra PE on Monday and Tuesday afternoons in addition to the sessions on Thursday and Friday afternoons. The first two sessions of the week will allow us to provide intervention help to children who may need some support with certain aspects of their learning which was essential in the period we were in 'lockdown.'
Spellings will be given out on a Friday and the children will be tested on these spelling words the following Friday. Homework will also be given out on a Friday and due in on Thursday.
Please continue to listen to your child read every day as this is essential for them to progress as fluent readers. All children will have a reading comprehension task to complete each week also. It is therefore important to ask them questions about what they have read when they read their book to you. Please see the parent reading support pack above as this provides useful guidance in this area.
As in all year groups, Children in year 4 will have a specific focus with learning and knowing their multiplication tables up to to the 12 times table. The government introduced a test for year 4 children which was going to be administered for the first time this summer. We have not heard yet whether this will still go ahead for the current Year 4 children. Please help your child to learn the times tables facts to support the learning we are helping them with at school.
Please keep in touch with us using your child's reading record to send any messages to us or telephone the school to make an appointment for us to call you.
The children have been enjoying learning about Ancient Egypt, Pharaohs and mummification.
Year 4 have been very busy with all their learning during the first half of the Autumn term and there is still so much to discover before the term finishes.
The children wrote descriptive poems using their senses and figurative language. The poems were related to a painting of Las Vegas which Mr Hall had painted.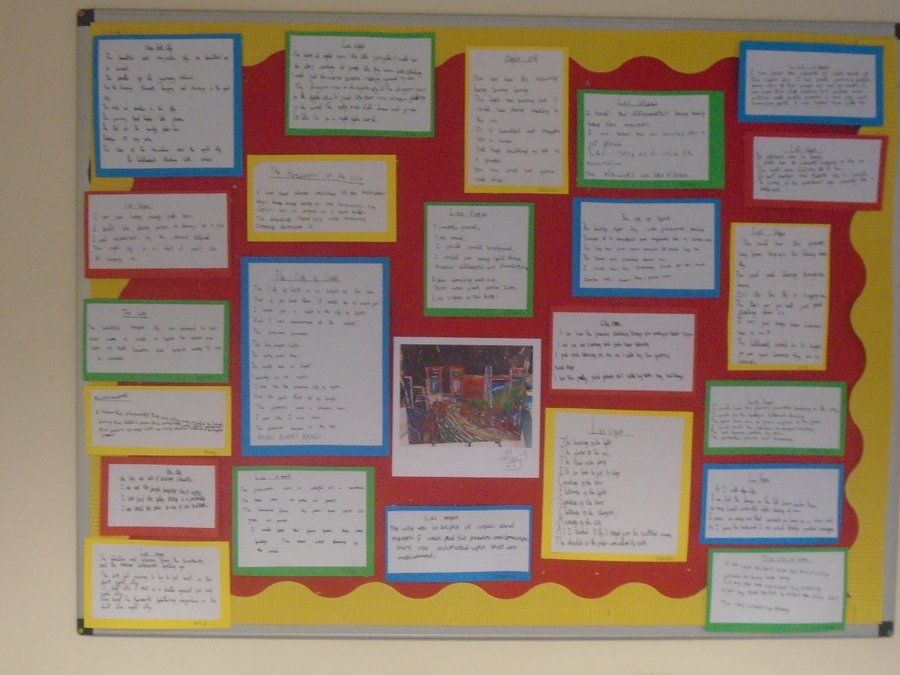 Hindus have recently celebrated Diwali. In RE the children learned about the meaning of this important festival and discovered how Hindus celebrate this special time. Year 4 created rangoli patterns of their own outside.