Year 2
Class Teacher - Mrs Oke
Teaching Assistant - Mrs Cooke
Teaching Assistant - Miss Roper
Welcome back to school, and Year 2!
I hope that you had a great summer holidays and are looking forward to the new term ahead.
This term we will be learning about 'The Great Fire of London' as part of our whole school topic, 'A Walk Through Time'. We will be going on a trip to London this term to enhance the children's learning by walking around the parts of London associated with the fire in 1666.
We began today by making houses to add to our great Fire of London display.
In our room this term we have a 'Pudding Lane Bakery' role play area where children can use their imagination to explore what it may have been like to work in the bakery, as well as develop maths skills using measures and money.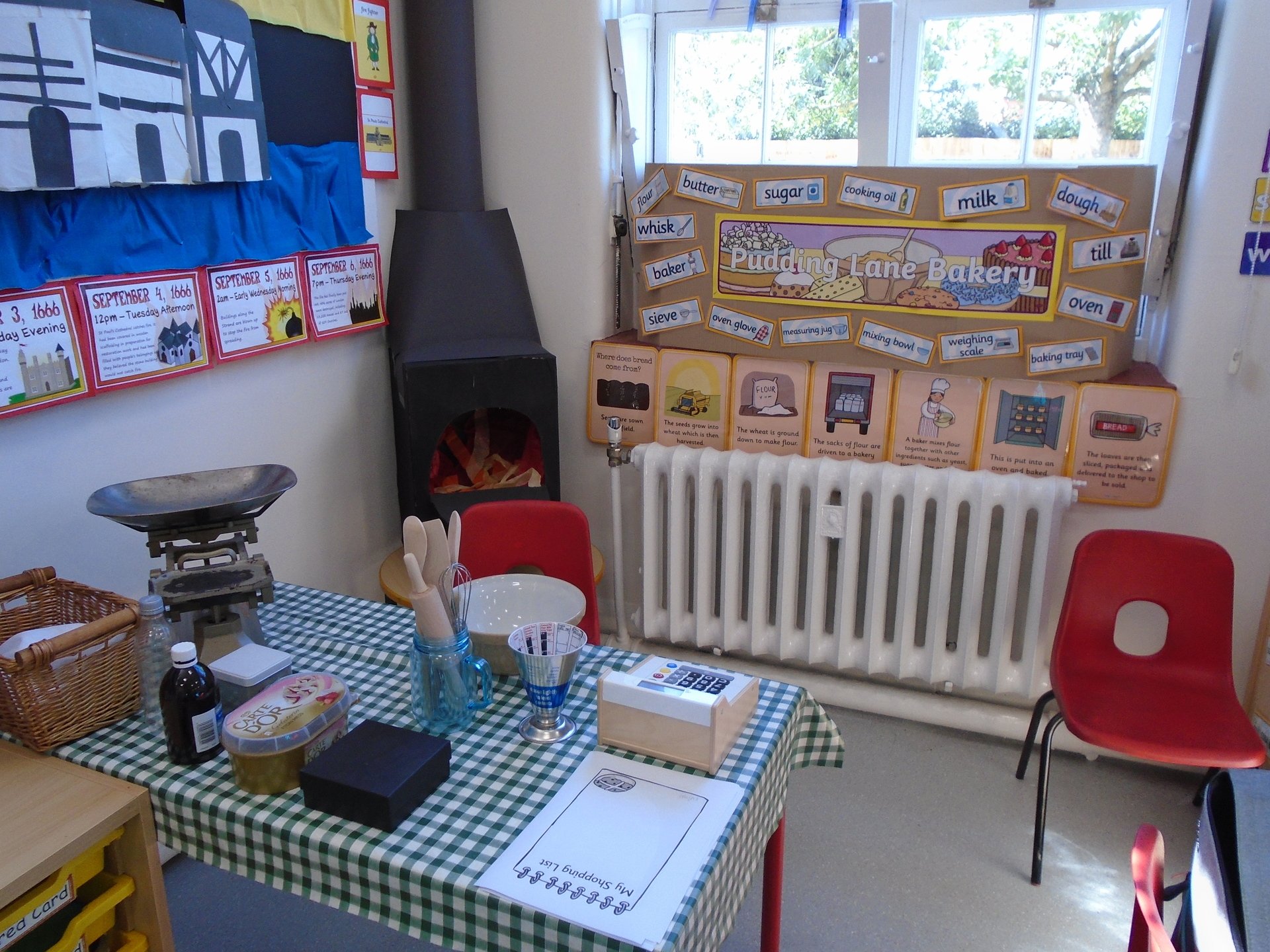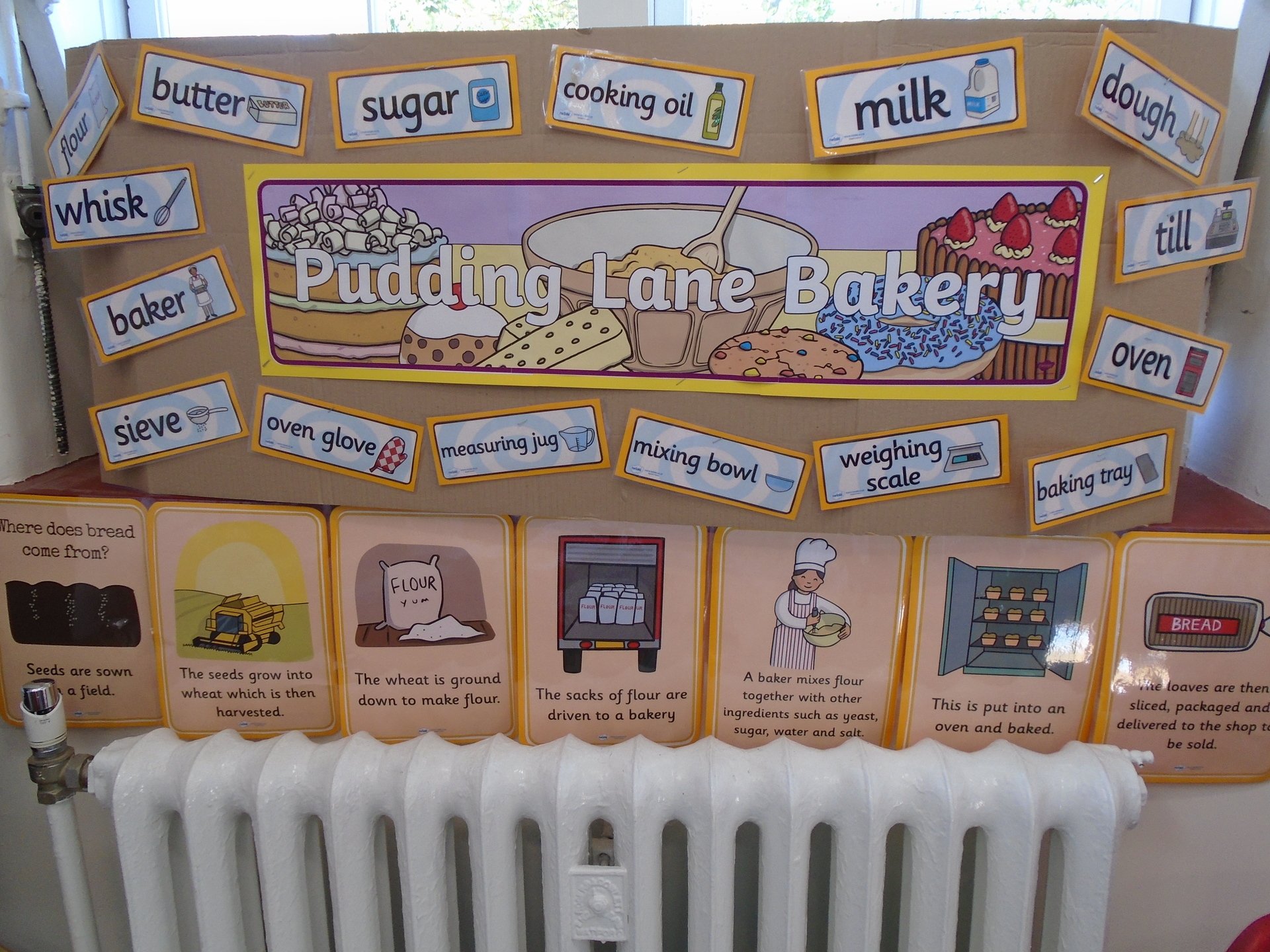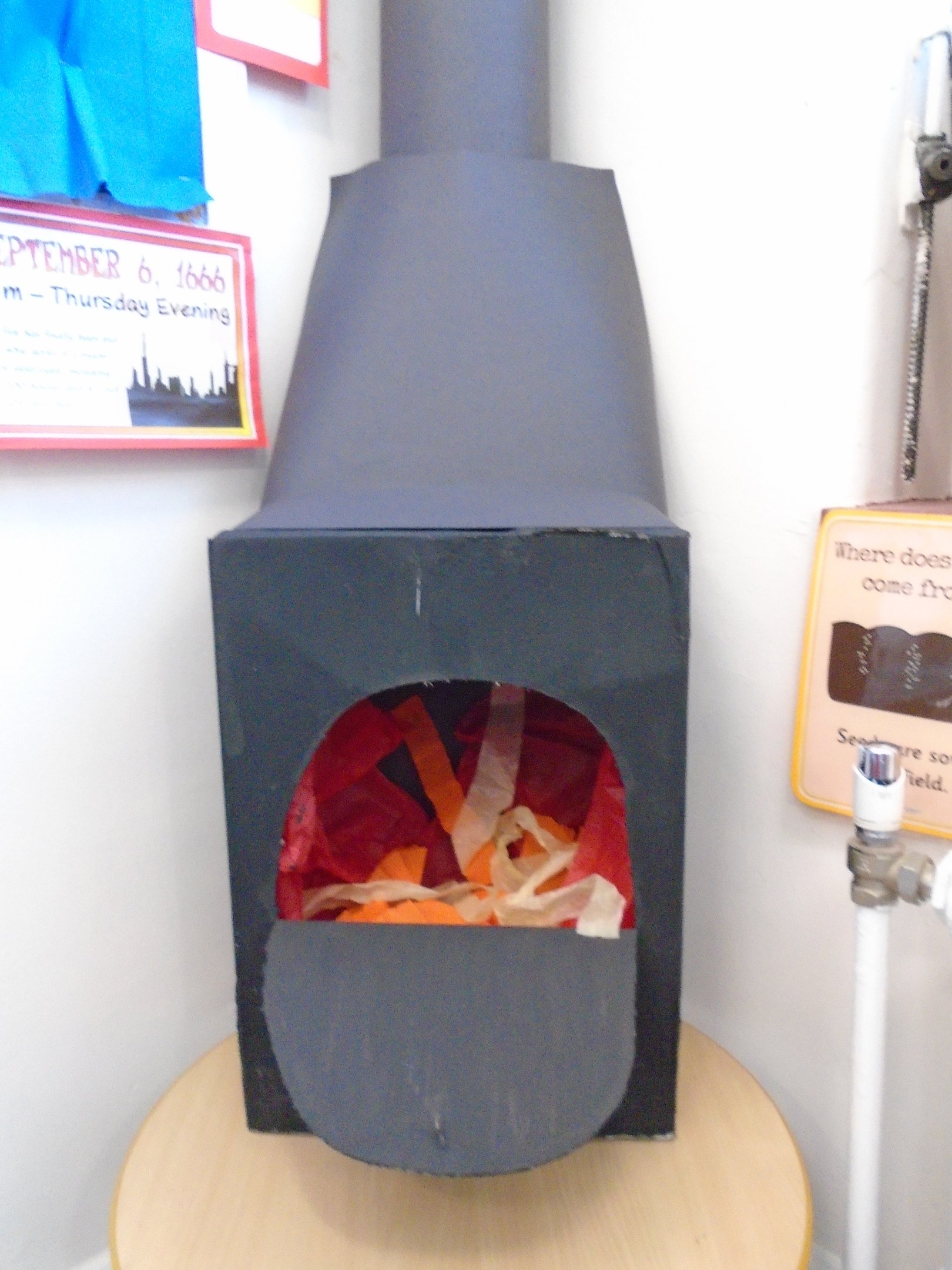 It was lovely to have some amazing artistic pieces of artwork from the children which they have completed over the holidays on 'The Great Fire of London' theme.
Our Science learning this term will focus on 'Materials'. We will investigate different materials used to make objects, will look at the properties of different materials and what makes them suitable for a particular purpose.
Summer Term in Year 2
Summer term is always a busy, exciting term!
Our topic this term is 'What a Wonderful World'.
We will enjoy learning about planting and growing and will start the term by planting beans and a range of other seeds and bulbs in order to observe the conditions needed for a plant to grow well.
We will also be using the outside environment to learn about maps and compass directions and will draw different routes around the school, and the village to!
Linking Literacy and History, we will be learning about Beatrix Potter and her early life, as well as having fun with her wonderful stories, including Peter Rabbit. We will be writing our own versions of her classic story.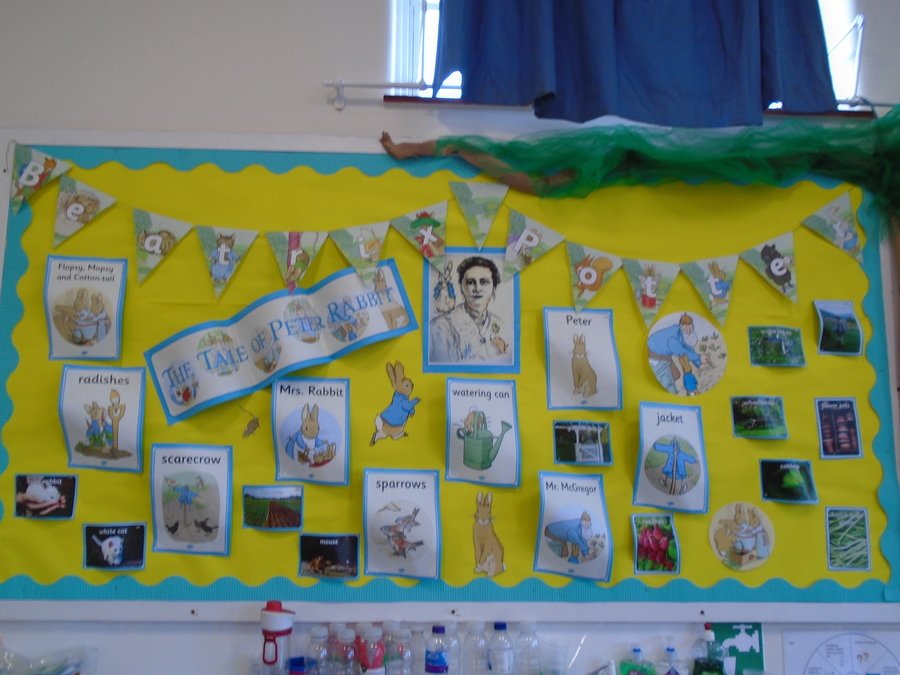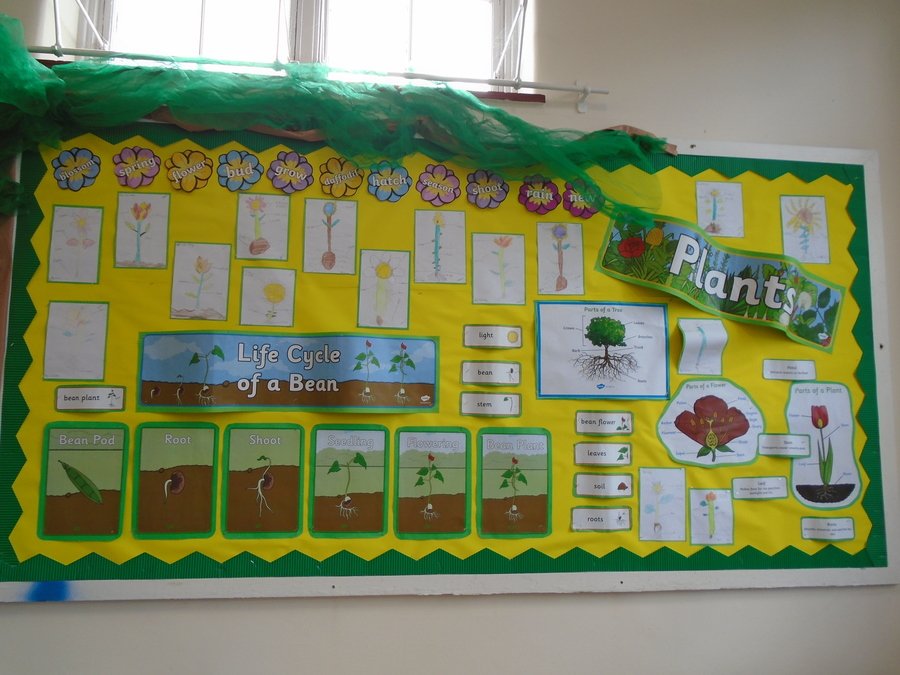 Spring 2019
Welcome back after Christmas, I hope that you had a great holiday. Our topic this term is 'Intrepid Explorers' and I have seen some great homework on different explorers so far and look forward to seeing the rest this week.
Autumn 2018
Welcome back! It's great to be back for this new school year. Year 2 have a new classroom to enjoy this year, and are already coming up with ideas for displays and a new reading corner.
We welcome a new TA with us this year. I'm know that Mrs Cooke is excited about working with Year 2 this year.
Our P.E will happen on a Wednesday and Thursday this term, so please make sure that P.E Kits and trainers are in school for those days. I know that Mr Anderson is excited about using the new playground as much as the weather allows this term!
Homework will be sent home on a Friday to be handed in on a Thursday. If you have any problems with any tasks set, then please come in and ask me about it.
Our main topic in history this term is 'The Great Fire of London'! We have already enjoyed making Tudor houses to add to our first class display and look forward to learning all about the events that happened in 1666.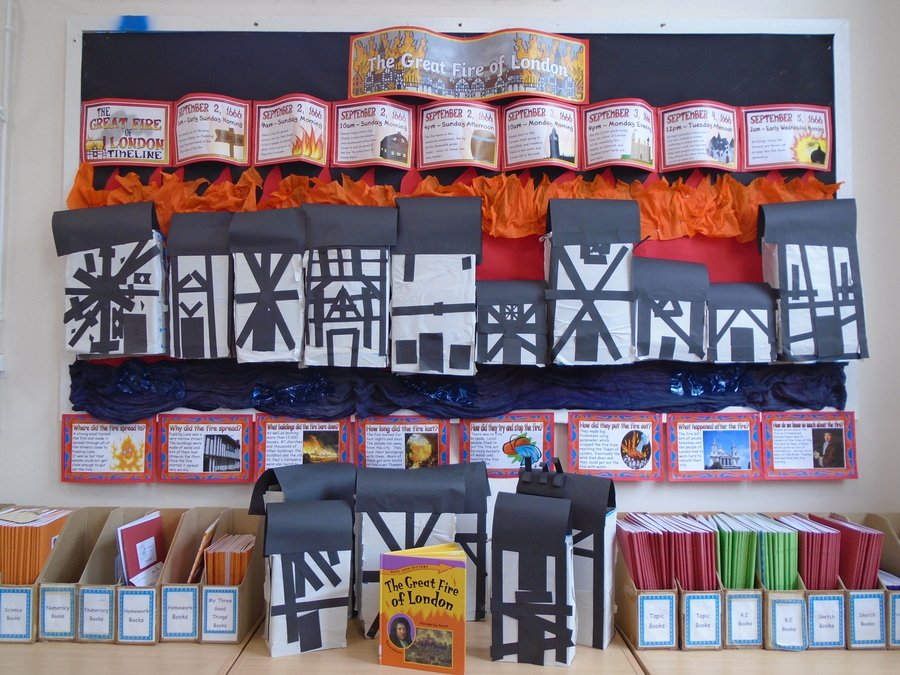 On Monday September 17th we had our first 'Marble Day'. This is a day that causes great excitement and is a reward for earning 100 marbles in our jar. We spend 'Marble Day' in a variety of ways, with activities chosen by the children and myself. The activities are mostly linked to topics or are in preparation for topics that are coming up.
We started the day by hearing the story of 'The Gingerbread Man' and proceeded to make finger puppets of 'The Gingerbread Man' story. We used them to retell the story to each other.
Next we made Gingerbread Men!
First mixing and making the dough...
Then came the decorating...
Finally we finished our Gingerbread Men, took them home and ate them!
This week we begin a new Literacy unit, learning about traditional tales, with a focus on 'The Gingerbread Man'. The experiences that the children have on 'Marble Day' will enhance their engagement with their learning. We will be writing our own version of this story next week, watch this space...